PayPal and Stripe remain the most popular payment gateways that WooCommerce supports. Why? Both Stripe and PayPal provide free WooCommerce extensions, have equitable rates, ensure seamless transactions, and stand by trustworthy business practices. But who wins the battle Paypal vs Stripe?
In short, both Stripe and PayPal allow businesses to protect their users while making money. The question remains, though, which is better for your business, PayPal or Stripe? In a Paypal vs Stripe parallel, what are the pros and cons of each of these payment gateways? Which is best?
Paypal vs Stripe: The Benefits of PayPal for Online Business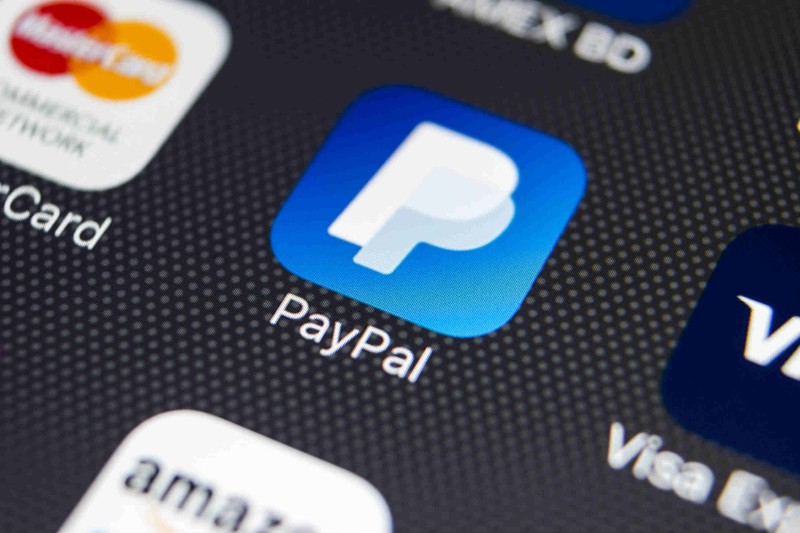 PayPal is a huge company, which translates into more pros than cons. Almost every bank in every country on this planet works with PayPal. The best part, you get to control your money almost instantly, which is one of the greatest benefits of PayPal. Here are some other pros:
Easy WooCommerce Integration
PayPal is a built-in payment option offered by WooCommerce, which means that you don't need to do much to accept PayPal payments. You only need to verify your PayPal account. In a Paypal vs Stripe confrontation, this is a huge advantage for both payment processing options.
Furthermore, you can opt for a WooCommerce extension – a free extension works just fine – and enhances the checkout process even more for your clients.
Transparent Pricing Policy
What percentage does PayPal take or how much does PayPal take? No matter how you ask the question, it is a legitimate question that many sellers are interested in answering.
When you compare Paypal vs Stripe, some will say that PayPal comes with more fees than Strip and that's true. However, PayPal is transparent when it comes to fees for online credit card processing. There are no hidden fees, which is a pro in today's world!
Most transactions will cost a 2.9% +30¢ fee and every other fee is explained and out in the open for everyone to see it. Yes, PayPal's online payment services are apparently more expensive than Stripes, but consider that there are no fees for cancellations, setup, or downgrades
Numerous Services under One Roof
Another great benefit of PayPal is its ability to offer a complete range of services all in one place. These services include recurring billing, virtual terminals, micropayments, payment forms, invoicing, and payment gateways, and this is only a short list of what you can get.
The PayPal percentage may deter you, but you must consider that with PayPal's online payment processing, you get the money into your account almost instantly following a transaction. You can choose to transfer your money to another account or you can choose the PayPal debit card.
International Availability
PayPal is a powerful, trustworthy, reputable, and easily recognizable brand among both buyers and sellers irrespective of their location on the planet. Within this context, many small businesses choose to work with PayPal as a payment processor in a Paypal vs Stripe parallel.
Every bank in almost every country in the world accepts PayPal from many other payment processors. Businesses want to reach broader audiences and therefore need to take payments online via a recognized payment gateway and PayPal is ideal in this respect.
Setting up your PayPal account as your payment gateway is a walk in the park. Within 10 minutes, even newbies can set up and commence collecting payments with PayPal. This is another excellent benefit that PayPal offers in a PayPal vs Stripe competition.
Stripe Definition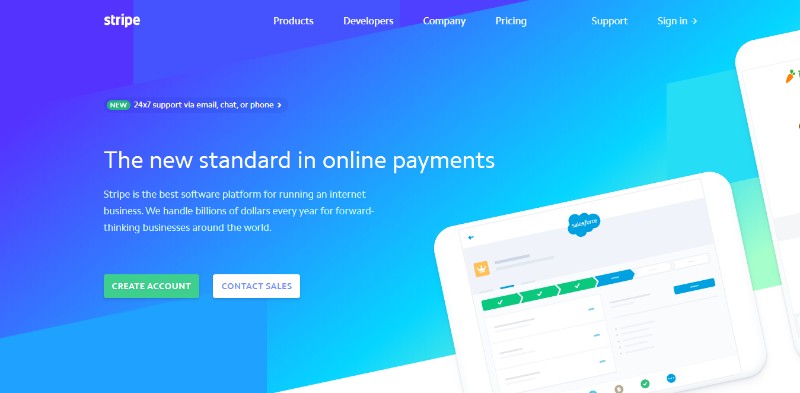 Stripe is the only real competitor for PayPal in the payment gateway industry. Stripe Inc enhances a full spectrum of payment types and processes a full range of currencies. Unlike PayPal, which is a frontend payment processing brand, Stripe is a backstage payment processor. Stripe payment processing does not involve an account as PayPal does and your clients will get to interact with your website alone; they will not interact with the Stripe website.
The Benefits of Using Stripe
Stripe credit card processing is simple and straightforward because that's what Stripe does: it processes credit card payments. It is as simple as that.
Stripe provides access to more payment options than PayPal and these options may include Bitcoin, Apple Pay, Android Pay, e-checks, credit and debit cards, ECH and EFT transfers, whichever you choose to accept.
Stripe offers a myriad of API integrations, which means that you no longer need to depend on Stripe's internal analytics and reporting exclusively, but you can smoothly integrate their dashboard with lots of software.
Stripe has dedicated libraries for major platforms built on React Native, Ruby, Angular, Laravel, Vue, and others, and provides dedicated plugins for major platforms, such as WordPress, as well as Joomla, Drupal, Magento, and others.
Stripe is used by some of the world's giants, including Target, Blue Apron, UnderArmour, and Facebook, which goes to show its reputation.
The Downsides of Using Stripe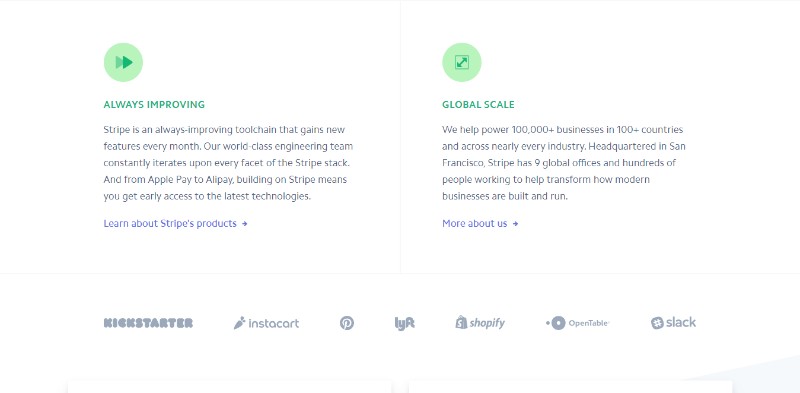 Setup: in a direct Paypal vs Stripe combat, PayPal gets to win with its easy setup process. Stripe's setup is a real pain and its major downside as a payment processor. The painful setup has driven many sellers into the arms of PayPal.
Stripe involves a lot of juggling with the API key and your site absolutely needs an SSL certificate. WordPress plugins can make the set up a little easier but familiarizing with procedures and documentation is still necessary.
Availability: Unlike PayPal, Stripe's availability is limited to some locations and banks, although their network is currently expanding. Even so, you must live in a country that is supported to take payments via Stripe.
If you live in the United States, you can take payments from customers that live in South Africa, although South Africa is not supported by Stripe; you can't accept payments from customers residing in the US, if you operate from South Africa.
Paypal vs Stripe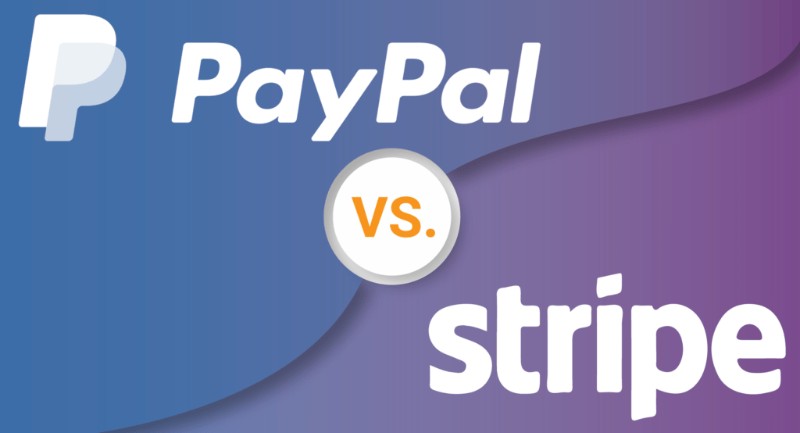 Reporting Tool: when you consider Paypal vs Stripe, you must consider their ability to generate reports and Stripe's Sigma gets to win because it allows you to create tailored SQL queries to produce reports. Stripe's reporting tool allows the generation of customizable reports, which is a great benefit if you are looking to analyze significant business data.
Virtual Terminal: PayPal has a virtual terminal, and surprisingly, Stripe doesn't have one. Despite the additional fee and payment processing cost, a virtual terminal is essential to certain businesses, especially those that require PCI compliance.
Both Stripe and PayPal focus on offering a solution to online payments processing, but their approach is different:
PayPal is the easy-to-use, entry-level online payment solution that is within reach of anyone with a minimum understanding of technology and e-commerce. It is a multi-feature payment solution (POS integrations, invoicing, mPOS) that works online and offline.
Stripe is a developer-level, online payment solution created for businesses requiring a technology-based tool that can be customized extensively. Stripe is ideal for those who only need online payment processing with lots of customizable features.
Ending thoughts on the Paypal vs Stripe comparison
It's difficult to determine which of the two major payment processors is more suitable for your business. You can come to a full conclusion after you consider several key facts about each online payment processor when you put Paypal vs Stripe:
Stripe is for developers, while PayPal is the ideal plug-and-play solution for newbies
Stripe is popular, but PayPal is a more popular and more powerful brand.
PayPal's pricing is ideal for non-profit organizations, while Stripe offers fewer fees for micropayments, recurring billing, and chargebacks, and other similar things.